You choose QUALITY when you choose Hope 4 Kids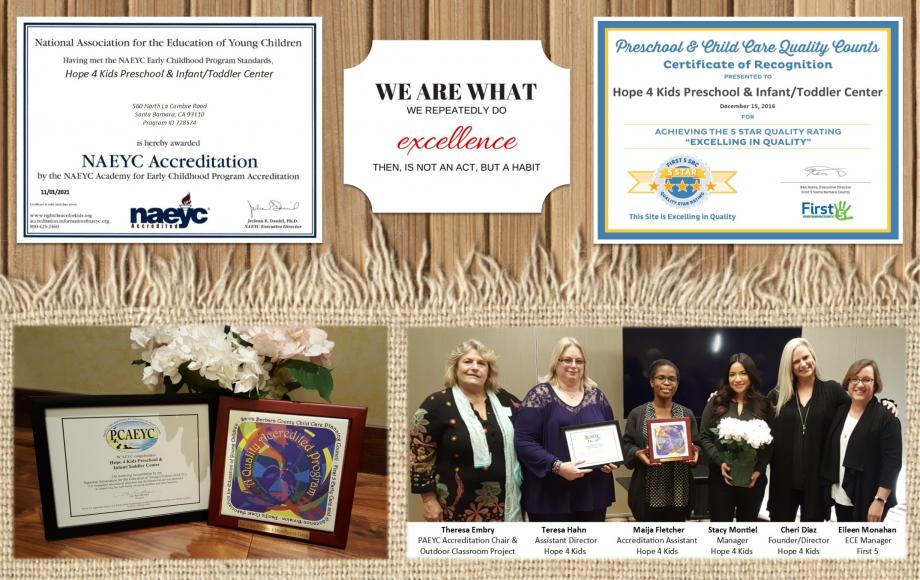 At Hope 4 Kids, we are very proud to have achieved 5 stars for quality, which means we are
excelling in quality
according to local, state, and national standards. We are also proud to be accredited through the National Association for the Education of Young Children (NAEYC).
As your director, I understand the importance and value of contributing not only to the quality standards and practices here at Hope 4 Kids, but also quality improvement in our local and nationwide community. Since 2007, I have been participating on boards, committees, panels, and consortia that promote quality for children in Santa Barbara County including the
Early Childhood Education (ECE) Leadership Team, First 5 Quality Counts, Outdoor Classroom Project Demonstration Site Network (DSN) Steering Committee, Director's Support Group
now known as
WALDO (Workforce And Leadership Development Opportunities),
and the
Quality Rating and Improvement System (QRIS) Consortium
. Besides being a consultant for child care centers, I have also spoken in Washington, DC for the National Association for the Education of Young Children (NAEYC), in Pasadena for their state conference (CAEYC), and in Nebraska at the Outdoor Classroom Project/Nature Explore Leadership Institute. Below you'll find more information about QRIS, NAEYC, Classroom Assessment Scoring System (CLASS) and Environmental Rating Scales (ECERS/ITERS), all critical assessment tools and systems that serve to document and verify nationwide quality standards and practices that we implement here at Hope 4 Kids. ~Cheri Diaz, Founder/Director
WHAT IS QRIS?
The QRIS Resource Guide is intended as a tool for States and communities to explore key issues and decision points during the planning and implementation of a quality rating and improvement system (QRIS). States are involved in various activities to improve the availability and quality of early and school-age care and education programs. Most often these activities are supported by quality set-aside funds from the Child Care and Development Fund (CCDF). States increasingly use CCDF funds to create QRIS or elements of QRIS. The development of QRIS began in the 1990's with States rewarding higher quality providers through higher subsidy reimbursement rates to those that were accredited. They found, however, that few providers were able to achieve accreditation. Due to the large difference between licensing and accreditation standards, States saw the need for steps in-between to help providers bridge the gap. At this same time, States were creating comprehensive professional development systems and seeking to align their many different quality initiatives. The first statewide QRIS was implemented by Oklahoma in 1998, more than half of the States and the District of Columbia have implemented statewide QRIS, and most of the remaining States are developing or exploring QRIS as a mechanism for organizing quality initiatives into one coherent system.
Source: https://qrisguide.acf.hhs.gov/index.cfm?do=qrisabout
Please review the QRIS Quality Standards Matrix here:
http://first5santabarbaracounty.org/ uploadedFiles/Content/05_EARLY_CARE__EDUCATION/ QRIS/SB%20-%20QRIS%20Matrix%203-14%20-%20Final%20-%20English%20-%20Interactive.pdf
WHY NAEYC ACCREDITATION?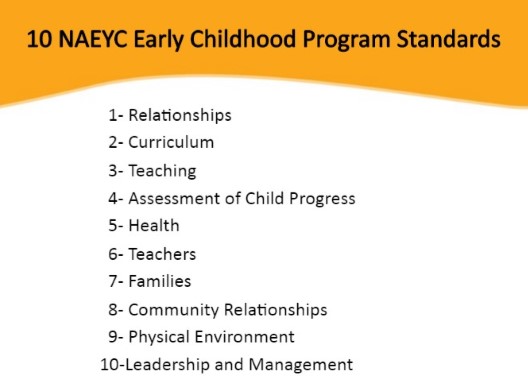 NAEYC Accreditation of programs for young children represents the mark of quality in early childhood education. NAEYC Accreditation began in 1985 with the goal of providing an accrediting system that would raise the level of early childhood programs. Today, over 7,000 programs are NAEYC Accredited. NAEYC accredited programs invest in early childhood education because they believe in the benefits to children and families. Early childhood experiences—from birth to age 8—have an enormous impact on children's lifelong learning and positively contribute to their health and development. Early childhood education programs with the mark of quality benefit children with greater readiness for and success in school. It is for this reason that parents and families are seeking out NAEYC-accredited programs. Parents choosing an early childhood education program can be overwhelmed by trying to find the highest-quality program for their child. NAEYC Accreditation is the mark of quality that families are looking for. NAEYC Accreditation gives families the chance to make the Right Choice for Kids.
Source: https://www.naeyc.org/academy/interested/whyaccreditation
Please review the
NAEYC Program Standards
here: http://families.naeyc.org/accredited-article/10-naeyc-program-standards. Please review the
NAEYC Accreditation Criteria
here: https://www.naeyc.org/academy/files/academy/Standards%20and%20Accreditation%20Criteria%20% 26%20Guidance%20for%20Assessment_04.2016.pdf
WHAT IS CLASS®?
The quality of teaching that a student experiences can vary greatly, even in classrooms led by teachers with credentials that meet many states' definitions of "high quality." More important than certificates or degrees, according to Robert C. Pianta in Education Week and Education Next articles, are the interactions between teachers and students and what teachers do with the materials they have. "The evidence is quite clear," Dr. Pianta points out in the Education Next article, "that it is the teacher's implementation of a curriculum, through both social and instructional interactions with children, that produces effects on student learning." To assess the factors most directly tied to student learning, Dr. Pianta and colleagues developed the Classroom Assessment Scoring System® (CLASS®), a valid, reliable observational tool that objectively measures the quality of teacher–student interactions in infant programs, toddler programs, prekindergarten, and kindergarten through Grade 3. CLASS has been researched for over 10 years in more than 3,000 early childhood settings and it is the only tool designed to assess classroom teaching and target efforts for improvement. CLASS is being used by school systems across the country to promote those elements of classroom teaching that have been shown to lead most directly to student learning.
Source: http://www.brookespublishing.com/class-download/
We encourage you to watch a video on CLASS and how it fits into QRIS, visit http://info.teachstone.com/webinar-how-the-class-measure-fits-in.
CLASS® DOMAINS AND DIMENSIONS: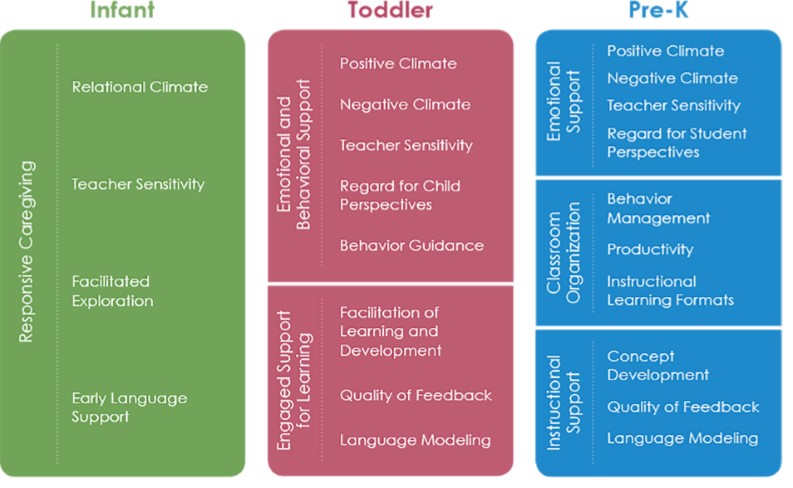 WHAT IS ECERS/ITERS?
There are four Environment Rating Scales (ERS), each designed for a different segment of the early childhood field.
Each one of the scales has items to evaluate: Physical Environment; Basic Care; Curriculum; Interaction; Schedule and Program Structure; and Provisions for Parent and Staff.
The scales are suitable for use in evaluating inclusive and culturally diverse programs.
The scales have proven reliability and validity.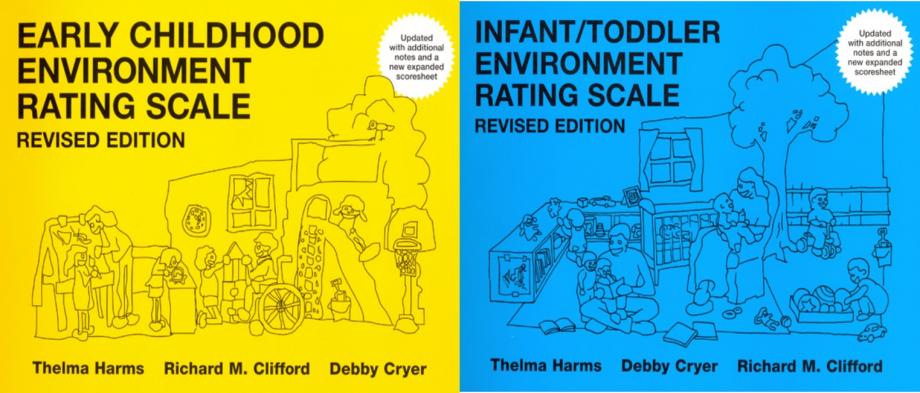 Our scales are designed to assess process quality in an early childhood or school age care group. Process quality is what children directly experience in their programs that has a direct effect on their development, including the various interactions that go on in a classroom between staff and children and among the children themselves, and the interactions children have with the many materials and activities in the environment, as well as those features, such as space, schedule and materials that support these interactions. Process quality is assessed primarily through observation and has been found to be more predictive of child outcomes than structural indicators such as staff to child ratio, group size, cost of care, and even type of care, for example child care center or family child care home (Whitebook, Howes & Phillips, 1995). The scales also examine other less directly experienced quality which are more structural, such as staff provisions, parent participation and information, and interactions among adults,
Source: http://www.ersi.info/scales.html
WHAT IS THE OUTDOOR CLASSROOM PROJECT® & PRESCHOOL FOODS INITIATIVE?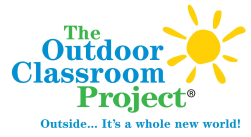 The Outdoor Classroom Project (OCP)
is dedicated to increasing the quantity, quality, and benefit of outdoor experiences for children in early care and education programs through providing educational and consulting services on the value and design of engaging outdoor learning environments to teachers, administrators, and parents. Across America today, children's health, development, learning, and well-being have been seriously compromised by decades of changes that have dramatically altered childhood. Key among these changes has been a significantly reduced amount of time spent outdoors, which is linked to a number of other detrimental trends. The Outdoor Classroom Project (OCP), an initiative of the Child Educational Center (CEC), Caltech/JPL Community, in La Cañada, California, is founded on the belief that early care and education programs have the power to address these challenges by providing rich and engaging outdoor learning experiences.
What Benefits Children:
Experience in the field and child development research alike are showing that all children need and benefit from more time outdoors; it is critical for their health, self-concept, and future school success. The optimal learning and growing environment for young children is composed of a full integration of indoor and outdoor spaces. The Outdoor Classroom enhances and adds to the limited scope of activities available inside confined classrooms by providing for hands-on experiences, physical activity, social-emotional growth through peer interaction, and multifaceted approaches to cognitive development that connect children to nature and maximize their learning outcomes.
Source: http://outdoorclassroomproject.org/about/
The Orfalea Fund's
Preschool Food & Healthy Habits Initiative (PFI)
worked with directors, teachers, kitchen staff and parents to improve life outcomes for children. PFI helped local leaders create new norms for food and physical activity practices in Santa Barbara County early childhood education centers. The goal of the Orfalea Foundation's Preschool Food & Healthy Habits Initiative (PFI) was to create "centers of wellness" in the early childhood centers of Santa Barbara County to benefit children, their families, and center staff. PFI was delivered under contract by the Consulting and Educational Services Division of the Child Educational Center, Caltech/JPL Community (CEC) in Southern California. It used the implementation design and infrastructure constructed for the Santa Barbara County Outdoor Classroom Project (SBCOCP) to deliver the new PFI content to ECE centers across Santa Barbara County. Implementation of PFI built upon the successful implementation strategy for SBCOCP:
an introductory county-wide event held in two locations
regional workshops organized as a two-year series of six sequenced events
center-site consultation and staff training
Source: http://www.orfaleafoundation.org/what-we-learned/right-from-the-start-landing-page/preschool-food-healthy-habits-initiative-caaic/