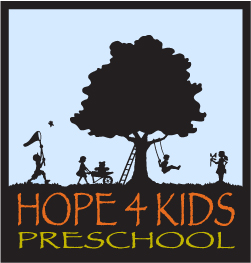 Hope 4 Kids is a wonderful, warm, caring family. Our teachers are qualified, gifted, and loving. Our support staff are talented, flexible, and attentive to the details that make for an incredibly well-rounded program. We offer a clean, affordable childcare center focusing on your child's growth and development, while partnering with YOU, your child's first and most important teacher.
Due to the ever-increasing need for flexible, quality care, we offer many schedules to accommodate your family. Depending on your family's needs, you may choose from our full day or part day options*. We also offer 2, 3, 4, and 5 day per week scheduling options* and a morning and afternoon program (please contact our office for availability). Please
click here
for information about scheduling and rates.
​
We invite you to schedule a tour by completing an
ONLINE TOUR REQUEST
to arrange a time to visit our program and meet our staff. *Please note that we encourage families to get on our Wait List to secure priority enrollment.
We are blessed to have a preschool serving children ages 2 to kindergarten and an infant/toddler center serving children ages birth through 2 years in the following classrooms:
PRESCHOOL CENTER:
Red Love Bugs Preschool Readiness (ages 2 - 3)
Blue Butterflies (ages 3 - 4)
Green Grasshoppers (ages 3 - 4)
Prek/TK (Pre- and Transitional Kindergarten) Aug - June (ages 4 - entering kindergarten)
Summer Camp, runs June - Aug (potty trained ages 3 - K)
After School Kindergarten Program (serves children enrolled in kindergarten through the school year and those needing summer care before and after the kindergarten school season)
INFANT/TODDLER CENTER:
Purple Cuddlebugs Infants (ages birth to 12 months)
Purple Cuddlebugs Toddlers (ages 12 to 24 months)
To schedule a tour or receive a
free
brochure and Enrollment Packet, please
contact
us! We'd love to talk with you, get to know you, and see how we can work together to meet the needs of your child and family.
Enrollment priority will be given to children and families in the following order:
1) Full time enrollment (returning families/siblings first, foster children, then new families)
2) Returning families/foster children
3) Siblings
4) New families
*Depending on availability.
Hope 4 Kids Preschool accepts children ages birth through kindergarten. No child will be refused enrollment because of their gender, race, color, religion, national or ethnic origin, or that of their parents or guardians.
We wish to thank the
Daniel Child Care Scholarship Fund
and
The Santa Barbara Foundation
for their very generous contributions to our scholarship program. A limited number of scholarships are available; please contact the school office for details. We accept scholarship applications for infants, toddlers and preschool foster and fost/adopt children living in Santa Barbara County. We also have limited internal scholarships through Hope 4 Kids Preschool for afternoon care. Click
here
for more information about Foster Child Scholarships.
*Wait Lists
Because we are a high-quality program, we often have several families on the Wait List during pregnancy to ensure a space is available when they need to enroll. We
highly
recommend getting on the Wait List for all families, particularly in our Infant/Toddler Center. Please note that submission of the Wait List Form
does not guarantee
that a space will be available when a family needs to enroll. The purpose of the Wait List Form is for families to express their desire to enroll their child in our program and for us to keep track of a family's priority (based on the Reservation Date) when an opening occurs.
When a space becomes available, being on the Wait List gives a family priority over other families who are not on the Wait List
.
Once on the Wait List, we recommend that families check in every two to three months
with the Director to update information or to express ongoing interest in enrollment. Your family's entry will be deactivated if we don't hear from you every three months or if you decline a space if/when offered.
CLICK HERE TO DOWNLOAD THE WAIT LIST FORM.
Please contact the school office at (805) 682-2300 x0 for questions!
We look forward to meeting you and getting to know your family.