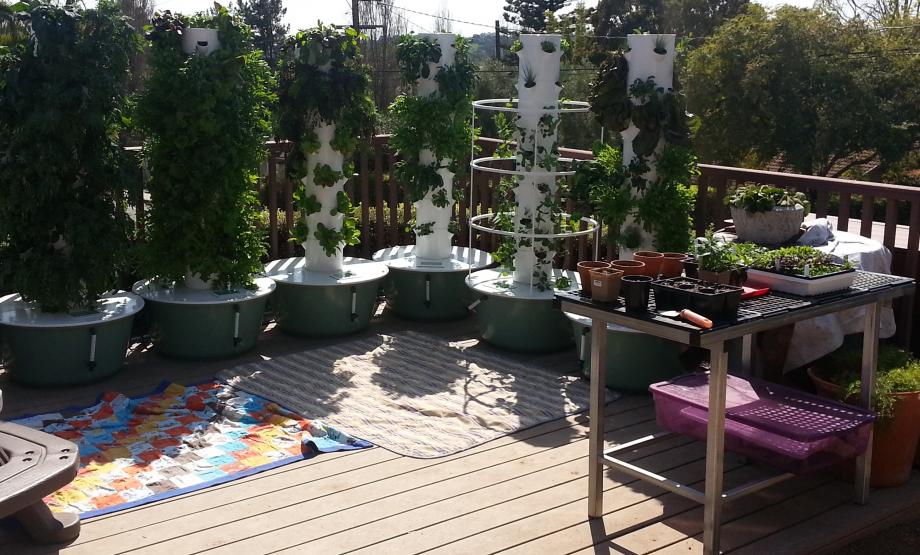 At Hope 4 Kids, we believe in healthy eating and healthy living! We have an amazing snack menu that is derived from wholesome, nutritious, non-processed foods. We also use as many organic food products as possible! We have in-ground garden boxes, container gardens and Tower Gardens! In fact, we are the FIRST preschool in the world to have a Commercial Tower Garden Farm!
We love our Commercial Tower Garden Farm because it is SO simple and always produces amazingly tasty and nutritious fruits and vegetables! It uses a unique vertical growing system called, aeroponics, which is the process of growing plants in an air or mist environment without the use of soil. Tower Gardens produce far more colorful, better tasting, better smelling, and incredibly nutritious fruits and vegetables. Tower Gardens is definitely a step toward future gardens as it is a wonderful, clean, and efficient way to produce utterly delicious (and VERY healthy) fruits and vegetables.

We believe that a garden is a place of wonder, discovery and learning. Our gardens should be treated with respect, a place for children to learn about and understand life cycles, and should be allowed to explore in his or her timeframe while also respecting the learning of others. We will dedicate at least one person to the maintenance, care, and creative structure of our gardens: our Garden Teacher. This coveted position employs the opportunity to dream big, consider tiny worlds and environments, and ensure children are along for the journey. Because a garden is a journey, we will never stop wondering what lies ahead.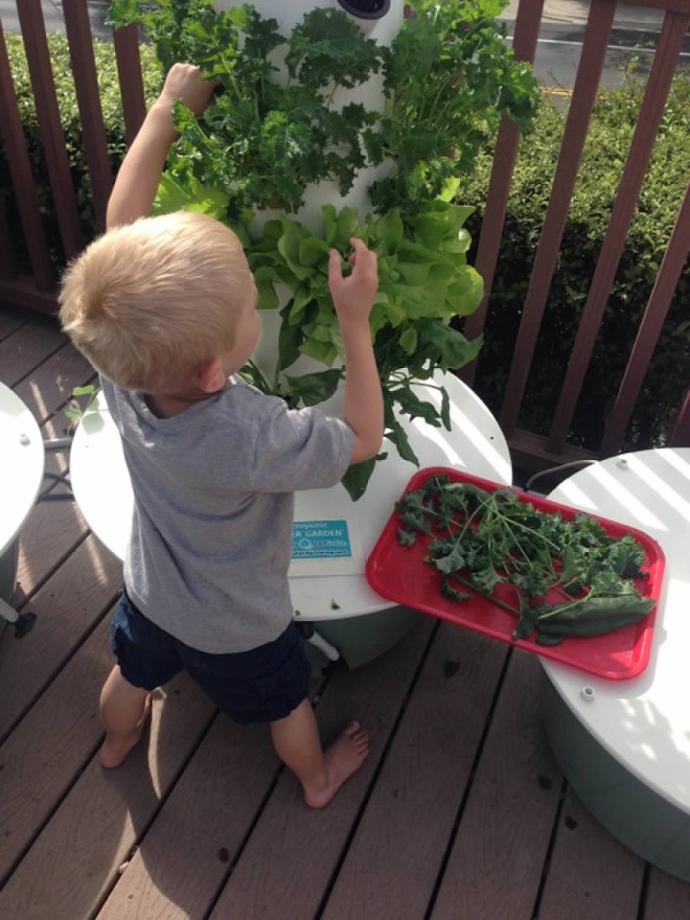 CLICK HERE to learn more about Tower Gardens.
CLICK HERE to see a list of things you can grow with a Tower Garden.
CLICK HERE to learn more about Juice Plus+, a division of Tower Garden that offers full nutrition in simple, healthy ways!
Click here to learn more about owning your very own Tower Garden! (Did you know that for under $50 a month you could own your OWN Tower Garden? And...help Hope 4 Kids as well! All Tower Garden and Juice Plus+ purchases contribute to additional supplies for children and teachers so...go get healthy!)
Below is a partial list of fruits, vegetables, herbs, and flowers that can be grown with the Tower Garden:
FRUITS & VEGETABLES Click here for full list of fruits and vegetables:
Beans: lima, bush, pole, shell, fava, green
Lettuce: all types
Cucumbers
Melons: all types
Squash: all types
Strawberries
Tomatoes
HERBS Click here for full list of herbs:
Basil: all types
Cilantro
Lavender
Oregano
Rosemary
Mint: all types
Parsley: leafy types only
Lemon grass
FLOWERS Click here for full list of flowers:
Both edible and decorative flowers can be grown in Tower Gardens.
Marigolds
Morning glory
Phlox
Ptilotus
Petunia
Poppy
Polygonum
Sunflowers
Salpiglossis
Our Healthy Foods Policy asks that families bring healthy, nutritious food in children's lunches. Our staff also models healthy eating habits to the children. We offer tasty, nutritious cooking activities such as Tower Garden salads, guacamole, pico de gallo and blue corn chips or home-made kale chips, California rolls, melon tasting, Juice Plus+ Smoothies, and so much more! We love to cook WITH our children, teaching as we go, taste-testing homegrown vs. store-bought produce, helping them to guess about what's inside (i.e., "What do you think is inside this avocado? What color will it be? Is there a seed? Do you think it will be sweet like oranges, sour like lemons or something different?").
We have reusable plates, bowls, forks and spoons so that we can be kind to our environment and model "being green" to our children. We also support "green" fundraisers, such as Mixed Bags, that offer a wonderful recycled and recyclable product to our families while also supporting additional funding for children's supplies. We are so proud of the incredible things produced by our gardens...we hope you'll stop by to take a look at the wonderful vegetables, fruits, and flowers produced by our gardens.
Click here to schedule a tour!